PINKY SAYS: GAGOSIAN AND GOODMAN–ART DEALERS TO THE WORLD
A few years ago we were with noted collectors of modern art in Florida. Their collection included works dating from the turn of the 20th to the 21st century. Every work they collected was best of breed for the artist, and we were astounded by their honest appraisal of the intricacies of collecting. The wife warned us that this was not a passing fancy for them and she told us how important it was to be on the good side of the dealers who represented the artists they wanted. We found it fascinating that these people stressed that unless you were associated intimately with the dealers you simply could not build a collection. To get to the top of the list at a gallery you had to wine and dine not the artist but his dealer. So for today's observations we chose to deal with only two dealers, Larry Gagosian and Marian Goodman.
The Gagosian Gallery is considered the colossus of the art world. There are three huge spaces in New York and eight more galleries in the capitals of the world. Gagosian handles superstar artists and sells to megacollectors. He also assembles museum quality exhibitions of Picasso, Malevich, Koons, Hirst, and Murakami. He runs this billion dollar a year operation with the help of a senior staff in which women outnumber men two to one. He says that women have always played an equal role in museums and galleries, that it has never been a good old boys' club, that his lieutenants must understand that it is only performance that is the key and that sales are what this is all about. His associates must have a list of at least five multimillion dollar deals on the line and they must be ambitious, intelligent, well connected, socially adept, highly discreet, devoted to art, and reachable at all times. It is also helps if they are well dressed, beautiful and come from an aristocratic family. Larry is volatile and vents or erupts regularly. He does not accept the word try, "I don't want to know what you're working on. I want to know when it's done." He communicates directly with each of his top people several times a day, and they know that he is never satisfied. He pushes himself and his people to produce and they respond because they can earn milllions of dollars. If he decides that he wants to have a show or sell a work from a private collection he is relentless in effecting it. I cannot help but enjoy his feverish forays despite the fact that his driven personality makes me shiver. He apparently has a great time doing what he does because he once e-mailed his staff "Today is my birthday. Please sell something."
Marian Goodman is one of the world's great art dealers. She is barely five feet tall and speaks in a tentative whisper. Moreover she dislikes discussing dealing in art. "I've made it a rule not to talk about the business aspect of the gallery". She refers to herself as a gallerist who presents challenging works of art to the public and allows them to open their minds to the art. She presides over her white cube from a small office at the back of the gallery . She dresses in black slacks and she allows that she, like Jack Benny, is 39 years old. I would estimate that she is off by about 40 years. The entire staff is about 27 employees in New York and Paris. Her artists range from the Mexican Orozco to Gerhard Richter, Anselm Kiefer, and Jeff Wall. She nurtures her artists and keeps them in paints or film or digital cameras. She goes to big art fairs like Art Basel in Miami and sells huge quantities of great art. The dollars roll in because she cares less about them than the art. She makes the art visible and understandable to her collectors and she does it in the market place because this is the least bad means of getting it to the public. She is a friend to the curators of the museum world and is known as a curator's dealer. It is important to her to sell art not to a private collection for huge amounts of money but to get it out where the public can see it. When she holds a dinner for one of her artists the head table includes curators, artists, critics and culturati and not a single private collector. Goodman feels that her gallery is a place where the public go to see significant challenging art and it is fine with her if you never ask the price or deal with her. She has a taste for the most rigorous European artists and she says, "It's very important to me to make my decisions based on my honest feelings about the work. Not to go running after every artist who's hot for a year. And not to be focused on trying to gather a bunch of famous artists together. I promised myself I would not be swayed by an artist's popularity or their money making abilities…for me it was vital to keep my choices clean so I would not end up having a store but rather a gallery."
Most contemporary galleries are funded by blue chip old works that they sell out of the back room. Goodman never sells works that her artists have not made. If Gagosian stopped making millions both the public and his staff and certainly he himself would chalk him off as a failure. Gagosian knows himself as does Goodman. He understands what he does as a dealer; he is a grandstand performer with a worldwide audience dependent on his knowledge of what is great art. Goodman does it differently. "I have an intellectual and emotional response to art. When a work is truly poetic, it can nourish one's soul."
As the old saying goes, "you pays your money and you makes your choice." Dealers are different from you and me and dealers are certainly different from each other.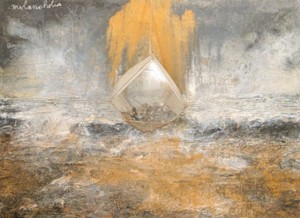 Both dealers deal in this one artist's work.