Pinky Says: HENRI CARTIER-BRESSON-PHOTOGRAPHER EXTRAORDINAIRE
HENRI CARTIER-BRESSON-PHOTOGRAPHER EXTRAORDINAIRE
In an effort to explain the art world we have tried to single out for the reader interesting artists throughout history. We have a small photograph done by Henri Cartier-Bresson which shows a fat French family picnicking at a race track. It is not one of his greatest works, but it forces us to look and to understand this family in a way that no other artist could have done. Henri Cartier-Bresson was one of the greatest photographers of the 20th century. He came from an affluent French family; Cartier-Bresson was headstrong and determined not to follow in his father's footsteps, thus he determined that he was meant to be an artist. It was also natural then for him as a young man to be a communist as well as a surrealist and to busy himself in brothels. Gertrude Stein viewed his paintings and advised him to join the family business. In 1931 he began taking pictures in Africa where he acquired black waterfever and a Leica camera. He then gave himself over to his surrealist spirit recording odd events in the city streets of Marseilles. Cartier-Bresson says that he suddenly realized that "photography could reach eternity through the moment". What really makes him a genius is that he approached photography recording timeless truth and immediacy which thrilled both the eye and the mind.
In 1937 he joined the staff of a communist daily newspaper and he was sent to cover the coronation of King George VI. His photographs did not record the pomp of the event; instead he turned his lens to the attending crowds.
He had joined the French army in 1939 and, captured by the Germans, he spent three years in prison camps before he escaped. During this time he proceeded to take magnificent portraits of the leading avant garde intellectuals of France in a new way. These silent duels with consenting adult persons generated the most beautiful and moving portraits in photographic history. After the war he made a film about the expatriation of liberated prisoners and displaced persons in Europe. One still from this film shows a female collaborator being denounced by a woman she had betrayed. It was a photograph that aroused ferocious anger in all who saw it, and it was this single photograph that brought him to New York where he became a co-founder of Magnum, a photographic agency headed by Robert Capa, a famous American photographer.
Cartier-Bresson began to photograph in a unique new way. He blackened the shiny portions of his camera and carried it around under his coat so that he simply photographed his subjects surreptitiously. It was his eye that determined what the viewer would see when the photographs were printed. However his lens was focused on the crowds rather than on the pomp. He was still a communist when LIFE magazine published his shots or workers, students, and soldiers involved in Mao's Great Leap Forward in 1959. Cartier-Bresson from that time on travelled the world that brought him to China, to India, Russia, Mongolia, Indonesia, the middle east and Japan.
Then in 1975 he put down his Leica after a 45 year career behind the camera and never thought of himself as the founding father of photojournalism nor did he take any more photographs. "It doesn't interest me." he said.
And the question for us is just what makes him great? What allowed him to photograph with such perfection? What he photographed was of less importance than where he placed himself to photograph it. His shutter click climaxed an artful scurry for the perfect point of view. Cartier-Bresson took photographs that aligned him with the head, the eye, and the heart of his subjects. He understood people, children, old ladies and what moments are significant in human beings. He was able to do this because he was intelligent, educated, and possessed of an understanding of history. Moreover he had an innate sense of what was going on in the world and he was there when great earth shaking things happened. It is still thrilling today to "meet up with his work."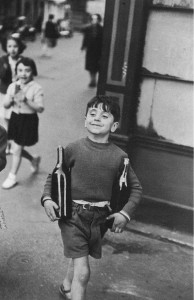 2 Responses to Pinky Says: HENRI CARTIER-BRESSON-PHOTOGRAPHER EXTRAORDINAIRE