Unemployment Insurance and Keystone Pipe Line XL
There is a bill before Congress to extend unemployment insurance and payroll tax cuts. It will be voted upon soon. Though unemployment fell last month, there are still over six million Americans in need of assistance. Also, unless Congress extends the payroll tax cuts, 160 million Americans will have to pay $1000 in increased taxes next year.
Some are staunchly against the passage of this bill. But some, especially the oil lobby,  desperately want the Keystone Oil Pipeline. John Boehner is considering attaching approval of the Keystone Pipeline XL to the bill.
Consider what that can mean to YOUR environment!  Spills from existing pipelines have been well documented. An existing pipeline, Keystone 1, has already leaked 14 times since it went operational in June 2010; one spill dumped 21,000 gallons of tar-sands crude. Another existing tar-sands pipeline spilled more than a million gallons in the Kalamazoo River.
30% of the nation's groundwater will be put at risk as well as 82% of the drinking water coming from the Ogalalla Aquifer leaving your children an increasingly dangerous world.
It is true that construction of the pipeline, which runs down the middle of the United States from Canada to The Gulf of Texas,  may create some 20,000 jobs, but at what cost to our country?
If you don't believe the Keystone Pipeline would drastically damage the environment, take a look at where the oil comes from and the damage it's already done; the tar sands in Alberta Canada . Click here for pictures taken by Robbie Mcclaran, a nationally known freelance photographer.
President Obama has already said he will veto the bill if it passes with the Keystone attachment.
We should too. Each of us has only one tiny voice but we can become a roar if we all speak together. My Congressman is Kevin Yoder. Please Sir, Don't vote for the Keystone Pipeline!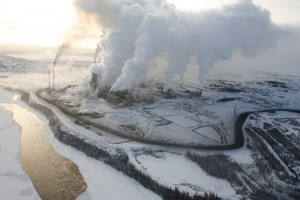 Alberta Canada Tar Sands
4 Responses to Unemployment Insurance and Keystone Pipe Line XL