Pinky Says: THE PORTRAITS OF AMEDEO MODIGLIANI
WHY SUCH A LONG FACE?
THE PORTRAITS OF AMEDEO MODIGLIANI
Even a young child can probably recognize the work of Amedeo Modigliani after seeing 2 or 3 of his portraits. The piquantly tipped heads and mask like faces of his long necked women are almost immediately recognized as his work by both novice and expert. However the rakish style and succulent color can be appreciated by all while it takes at least a sensitive teenager to understand that the work is sanguinely erotic. And this plus Modigliani's outrageous behavior during his lifetime culminating with his death at 35 has made a tragic story known by critics and romantics alike all over the western world. Modigliani was indeed gifted but much of the appreciation of his work is ignored in favor of remarks about his bohemian life which put him in competition with Vincent van Gogh. All the world loves the stories of ear severing and/or outrageous behavior ending in death for painters. Modigliani has obliged this audience, dropping hints of his relationships with his sitters, models, friends, and lovers amid the avant garde in Montmartre and Montparnasse. However this should probably not be the center for a discussion of his art.
Amadeo Modigliani was born in 1884 in the Italian port city of Livorno, the youngest of four children of a couple whose marriage united two Sephardic Jewish clans; the hardheaded Modiglianis whose wealth derived from mining interests in Italy and the feverishly cultivated Garsins who were business people long established in Marseilles. According to family lore the Garsins were descended from Spinoza. The finances of both families were subject to booms and busts which averaged out during the artist's childhood to a genteel poverty even though illusions of prosperity were strenuously maintained by both families. There is a bizarre tale true that the Modigliani house was being stripped of possessions to satisfy ruinous debts of the family at the time of his birth. Italian law stated that the bed of a woman immediately before and after she delivered a child was sacrosanct. And so they heaped the bed with all the treasures it could hold, while almost everything else they owned went out the door. His mother Eugenie said, "I celebrated his birth with tears and anguish but Amadeo was a beautiful boy." He became a pet of his aunts, uncles, maternal grandfather, and brother Guiseppe who was a prominent crusader for socialism. s Amedeo early on espoused socialist doctrine. His mother taught languages to make ends meet. Her husband Flaminio seems to have mattered little to Modigliani or to anyone else. Disease both physical and psychological riddled the family. Two of the Garsin aunts involved in raising him succumbed to melancholy; one committed suicide and the other was confined to a mental institution. By the time Amedeo was sixteen he had survived near fatal bouts of pleurisy and typhoid. In 1915 he received a diagnosis of the tuberculosis that would kill him.
Modigliani was an artist from the very beginning. His mother made a promise that she would support him in this. He entered the studio of a realist painter who was enchanted with Impressionist work, but he was already committed to the linear elegance of early Renaissance painters. Classmates remembered him as a sickly shy young man who when angry would throw whatever objects came to hand. Devastated by tuberculosis he spent time in Naples and Capri with his mother. When the disease was in remission he studied art in Florence and Venice. During this time he was already self medicating himself with alcohol and drugs. He was happy to let people consider him as an addict and thus to mistake the symptoms of his tuberculosis, which he kept secret. Drunks were tolerated while carriers of infectious disease were not.
Modigliani arrived in Paris as a vivacious dandy, in keeping with his family's genius for looking rich while being practically destitute. He soon became a cafe trendsetter. A chocolate brown corduroy suit with an open shirt and a red bandanna costumed him to be among the avant garde. Picasso said that he was the only man in Paris who knew how to dress while Cockteau called him "our aristocrat". He survived on small allotments from relatives, but he often would sleep curled up in the street or in a cozy corner underneath a table on the terrace of the Lapin Agile. He seems to have had a congenital trait for spending money as fast as he got it. He would manage to be thrown out of restaurants by causing scenes thus eliminating paying the check. Women often fed the handsome deadbeat. He ran up boundless tabs and paid with his then worthless drawings at places who valued him for his charms. Modigliani was a spoiled mama's boy but he was also a magnet for parental impulses.
All of his "sponsors" readily supported him because he was handsome, dashing, and soon to be great artist. Women were most vulnerable to his charms. He was loved by countless numbers of women; almost before one affair was over, another began. A former mistress of Picasso said of him, "He was young and strong and you couldn't take your eyes off his beautiful Roman head with its absolutely perfect features." He never warned his lovers of his tuberculosis, but they probably would have ignored any knowledge of his illness if they had known. There were models and poets and journalists among his lovers and the numbers of them were astounding. The last one was a lovely madly devoted art student, Jeanne Hebuterne. Her bourgeois family denounced her for the immoral life she led with Modigiani which was made even more terrible to them because he was a foreigner and a Jew. He would accept no slur or contempt from any one, habitually introducing himself by saying, "Hello, I'm Jewish."
Modigliani was at first primarily a sculptor, carving tall expressionless stone heads with long narrow noses . He was influenced by one of his mentors Constantin Brancusi. Many critics believe that he would have made a successful life as a sculptor but for the toll that stone dust and hard labor took on his terrible health. The strain of moving and storing these huge works whenever he changed addresses was impossible for him to continue, and so he had to abandon sculpture and turn to painting. Critics feel that his strength was really with sculpture since the particular elongations of his art are easily accepted in three dimensional art. Whatever the reasons for abandoning sculpture he turned to painting and here too there was a problem for him. He might have done stronger work if he had not been driven to forge a signature look, but he knew that his time was running short to be accepted as a great artist. He refused to court commissions from the wealthy. His collectors wanted sensuous nudes and he provided them with the greatest of ease. His model, Jeanne Heberterne, had no time to paint; she was his model for the nudes. This production of bared women produced an easily imitated type of forgery. It is estimated that there have been over 1000 faked Modiglianis. And there is even a wide range of quality in the real works by him. A striking but not outstanding painting sold for $68.9 million last year at Sotheby; it was a standard reclining frontal Modigliani nude with delicious peachy rosy flesh.
But we must return to his life with the knowledge that the tuberculosis had metastasized to Modigliani's brain. Gone were all his teeth and his beauty. He drank heavily to ease the pain. His illness finally was revealed to everyone and visitors declined rapidly. Jeanne seemed to perform only the most perfunctory of tasks, unable to help or console. A neighbor found the artist already in a coma and took him to a hospital. He died without ever regaining consciousness. The following day Jeanne, eight months pregnant, jumped to her death from her parents' apartment. Two days later Modigliani's funeral was huge and ostentatious. He was buried in Pere Lachaise and seven years later Jeanne's remains were placed with him. So now we must address the problem of sensationalism that ties together the artist with his body of work. In the case of Modigliani it is truly futile to attempt to remove Modigliani's hideous life from his art; the two are forged together. It is a truly romantic yet grotesque history, typical of the public's morbid fascination with the bohemian life of the artist. It is so much more of a factor of the artist's story than if he were a 9 to 5 diligent creator of works. It is a devastating tale and it brings Modigliani's work to the forefront of acceptance by the world. Strange and fascinating, is it not?
ADDENDUM-HOT OFF THE PRESSES IN THE UK DAILY MAIL
"A billionaire New York art dealer is refusing to return a famous $25 million dollar painting that was stolen from a reknown Jewish art dealer by the Nazis during World War II, a sensational lawsuit charges. In court papers Philippe Maestracci alleges that the Helly Nahmad Gallery located in Manhattan's posh Carlyle Hotel on Madison Avenue is wrongly in possession of the 1918 painting "Seated Man With a Cane" by Italian artist Amedeo Modigliani. The canvas was owned by Maestracci's grandfather, Oscar Stettner, a prominent Jewish gallery owner in Paris. Stettner was forced to flee with his wife and 2 children before the German troops stormed into Paris and the north and west of France became occupied Nazi territory."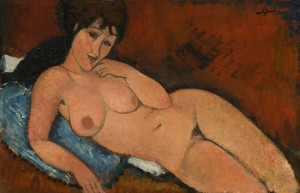 Nude on a Blue Cushion