Most Important Word
Here's the question: What is the most important word in the world ?
My neighbors saw Louie and me walking and ran out to tell us they have a new baby in the family: His name is Leo. He joins Walter, named for a favorite uncle. Cute names and very old fashioned. 'Everything that's old is new again' certainly holds true for names.  We have a great grandson named Jacob, a fashionable name in the 1920's. Now, almost one hundred years later, Jacob is the most popular boys name in America. The Tiffany's are gone, replaced by the  Annabellas.  Emma is favored over Kimberly.
What causes fades in names? Celebrities, of course. Natalie Portman and her husband named their first baby Aleph which is the first letter of the Hebrew alphebet. Makes you wonder what they'll call babies number two and three.
Joey McIntyle and Barrett Williams chose Rhys for their son's name. Pronounced Reese, I can't help but wonder how many times he'll have to explain that.
Victoria and David Beckham named their baby girl Harper. She joins big brothers Brooklyn, Romeo and Cruz.
Months are still favorites especially ones that begin with J as in June, July and January. And then there are the ever enduring flowers.  I'm okay with Rose (my grandmother's name, Daisy (a cute little friend of mine) and Lily (half the baby girls adopted from China)but personally, I balk a bit at Daffodil, (who the kids might nickname Daffy) Buttercup and Pansy (for obvious reasons.)
My family leans towards naming the living after the living which I don't think Jews are supposed to do. For example, my mom's name  was Beth (my grandmother was reading Little Women.) I'm Beth, my daughter and granddaughter both have Beth in their names. My father's name was Leslie so my niece named her daughter Leslie and Leslie's sister named her new baby girl Leslie. (Confused?) We have lots of Claytons in the family too, all named after a beloved relative.
I've noticed too that religion plays a part in baby names. Nicol Kidman named her baby Faith who she had through a gestational carrier, a term new to me. Surely you know at least one Hope or one Charity. And then there is the bible, chock full of hundreds of names from which to draw: John, Mathew, David, Luke and Joshua which has recently been listed among the top ten boy's names. Some people even name their baby Jesus which, if you ask me, is a little presumptuous.
Two of the new babies in my family are named Tyler (I have no idea where that came from) and Dylan who my husband insists on calling Dilan with a long i.
Finally, readers of Shakespeare have a plethora from which to choose. He alone provided hundreds of names, many of which show up every year beginning with his own: William. Then there's Arthur, the king,  Ariel from The Tempest , Henry, IV, V, VI and VIII, Juliet to go with Romeo and Richard twice.
In Romeo and Juliet, Shakespeare wrote:
"What's in a name?
That which we call a rose
By any other name
Would smell as sweet"
So, what's the most important word in the world?
YOUR name.
A child will be judged by his name for the rest of his life. Choose carefully. His life may depend on it.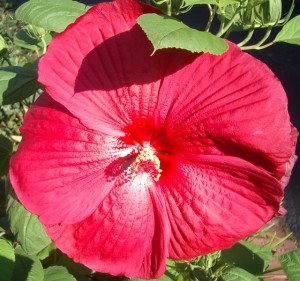 How about Hybiscus? It's a real beauty.
One Response to Most Important Word