Saving Family History
In 1900, my grandmother, Anna Lyon, wrote about her life in her diary. In 1950 I wrote about mine and just this year, my granddaughter wrote about hers. All of us unknowingly recorded history. Had human beings not documented their lives with pictures and words, there would be no record of what went before.
Though their purposes may vary, petroglyphs, or rock engravings, tell stories of the times. Museums are full of items that people saved to document their lives. Jews in the Warsaw ghettos stored their memorabilia in milk bottles and burying them in the ground so that one day, historians could reconstruct the past. We too have an obligation to preserve our histories.
The first Jew to take up residence in Kansas City was twenty three year old Henry Ganz in 1856 followed soon after by a young fellow named Louis Hammerslough. What brought these men to the town of Kansas? From whence did they come? We now know these things through the preservation of writings and records.
Take for example Eddie Jacobson. After he and his friend's haberdashery business failed, Eddie struggled to support his family, even moving in for a time with his in-laws. Even though his friend went on to become president of the United States, without letters and records, no one would we know the huge influence plain-spoken Eddie Jacobson had on the development of the state of Israel.
You may think of yourself as unimportant but the truth is, you have great value. You represent an era, a class of people whose history will survive only through the pictures, letters and documents you have put away in drawers and scrapbooks. It is vital information to know where you or your ancestors came from, how you lived and what you did. Your name may not grace a building but your footprint will remain forever. If you wish to be remembered, you must leave a record of your time on earth.
The Jewish Community Archives, begun in 2002 by Civic Leader Sybil Kahn, has made it their mission to preserve the history of the Jews in Kansas City for future generations with the goal of collecting materials and educating the public.
At the helm of the not for profit organization is Laurel Rogovein assisted by Judy Parelman, Executive Director and a hard working board of directors who's goal is to help people collect and preserve their photographs, awards, ledgers and memorabilia.
In a display case at the Jewish Community Campus, JCA has provided a permanent display case which traces the history of the Jews in Kansas City over the past 80 years. B'nai Brith Women have loaned their Doll collection to be used to teach diversity to children.
Here's what you can do to help. Take the pictures and documents you want to save to Kinko's and make copies in black and white or color, or scan them into your computer. Give the copies to your family.
Then, give the original documents and pictures to the Jewish Community Archives. We will see to it that they are forever preserved at the. Western Historical Manuscript Collection where your possessions will reside in a neutral place, safely stored for posterity with an organization whose prime purpose is preservation and research. Check our website for more information.  www.umkc.edu/whmckc/JCA/JCA.htm.
David Boutros, Associate Director, with the help of his staff and volunteers, will attach your information to each item, list everything in the accession book by name, date and description and ask you to sign a deed of the gift, transferring ownership to WHMC. They keep an inventory of all pictures, correspondence and so forth marked with the accession number.
Within a few days, your gifts will be carefully stored in archival boxes and folders in one of four locations, two at UMKC, one at Park University, and one at the University of Missouri at Columbia. If you or anyone else wishes to refer to the gifts, items can be retrieved for viewing within 24 to 48 hours.
If you are downsizing, don't throw those scrapbooks away. If you are a business or organization, don't toss out your files. Call Judy Parelman, Executive Director of Jewish Community Archives (913-649-2591.) She will help you while being highly respectful of your things.
Remember: history is written from documents that survive.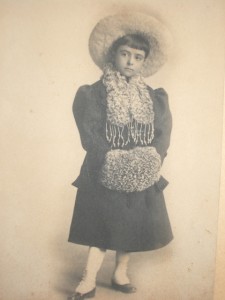 Oma Beth 1904
One Response to Saving Family History