The "Nature" of Kaleidoscopes

If you look deep into the heart of a tulip, you may be fortunate enough to see a kaleidoscope's colorful, random design before it fades away.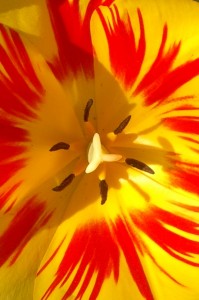 A Scotsman named David Brewster is credited with inventing the kaleidoscope in the early 1800's but the truth is, Mother Nature did it first.  Sir Brewster employed pieces of colored glass and mirrors while nature uses what comes . . . well. . . naturally.
Although Sir Brewster patented his kaleidoscope, others had no trouble copying his idea without serious consequences.  By the 1870's kaleidoscopes had become a fine source of upper-class amusement. No respectable parlor was without one, especially if it bore the name Charles G. Bush.
Bush, a Prussian by birth, came to America and settled in Massachusetts where, in his later years, he began to explore his passion for telescopes, microscopes and photography. He found that by using just thirty-five pieces of colored glass and filling one third of them with liquid that contained bubbles, he could produce fascinating, moving displays. He manufactured thousands of them, the most prized mounted on a four-pronged wooden pedestal.
Originally, they sold for $2.00 apiece but they have become quite rare and if you are lucky enough to find one, you would expect to pay upwards of $1000.00.
Steven Manufacturing Company began making Kaleidoscopes for children in 1964. Some were simply constructed to be rotated by little hands but the clown kaleidoscope has a nose on the case, which turns to make the glass pieces move. Some manufacturers of everyday products used the popular toy to advertise their wares. Steven made Campbell's Vegetable Soup kaleidoscopes that showed rotated little cans of soup among pictures of vegetables and its "chef" trademark.
Even though Steven manufactured thousands of children's scopes, they proved to be less than sturdy. In the sixties, they cost around two dollars apiece but now can be purchased in 'as is' condition on ebay for between ten and twenty dollars.
Today, dozens of artists design kaleidoscopes. One particularly intriguing piece is made by Carol and Thomas Paretti. It features anodized aluminum and bubinga wood. The object cell contains gold beads and colored watch parts. Bubinga is a fine wood used to make furniture and musical instruments such as guitars.
No blog on Kaleidoscopes would be complete without mentioning Cozy Baker who founded The Brewster Kaleidoscope Society in 1986. She had suffered a family tragedy and found her kaleidoscope calming. As her interest grew, she determined to research and write books (six in all) about this fascinating subject. Anyone interested in kaleidoscopes may join BKS on line. It costs $60 per year and is a good resource for collectors and artists alike, providing newsletters and annual convention information as well as listings of artists and retailers.
The popularity of kaleidoscopes grows worldwide each year as skilled artists push the limits of mirrors and mediums.  One kaleidoscope most likely made by William Leigh, a maker of tower clocks in Newton-le Willows Lancashire, England circa 1822, sold at Christie's London auction house in 2000 for $75,000. It is thought that the clockmaker created this 'one o a kind' kaleidoscope for an important private customer.
Mother nature creates 'one of kind' visions every day and we are her privileged private customers.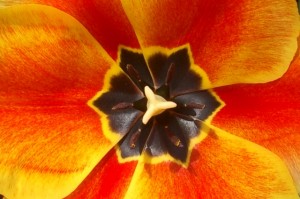 One Response to The "Nature" of Kaleidoscopes