Beth's Everything Blog 12/4/09
Van Go Mobile Arts

Last Saturday evening, we drove to Lawrence Kansas to attend a fundraiser.  All I really knew about the event was that the daughter of one of our companions founded the program and that they featured artwork done by "at risk" children. What I found was a WOW program for kids, ages 14 to 21. Van Go Mobile Arts was conceived by Executive Director Lynne Green (our friend's daughter) and implemented by an incredible staff of artists, social workers, teachers and volunteers. Through art, the youngsters are taught self-reliance, confidence and how to become contributing members of society. Van Go is a not for profit (501c3) organization. Using grants and contributions, they have been able to purchase and renovate an old warehouse to include office space, a kitchen, a computer room complete with donated Macintosh computers, and two large gallery spaces which can be rented for various occasions.
My friends and I were awed by the beauty and creativity of the art pieces the children made. We feasted our eyes on gorgeous glass plates, bowls, wine stoppers and jewelry.  Alphabet books, each letter designed and painted by a different youngster, formed a charming gift idea. Numerous colorful piggy banks demonstrated the emotions, thoughts and craft ability of the artists. Metal oil drums, cleverly crafted into rain barrels, pictures, greeting cards and baby clothing, all artistically decorated, sold well and the brightly decorated Australian rain sticks went fast. We had a great time and bought lots of presents for the coming holidays while investing in a bright future for this young population.
Kansas City's  two day Free Clinic
Forty million Americans are without health insurance. Many who are badly in need of medical treatment cannot afford to see a doctor.  The National Association of Free Clinics (NAFC) was founded in 2001 to advocate for and assist people in finding free clinics throughout the country. Next Wednesday and Thursday the 9th and 10th of December, NAFC and its partners will be sponsoring a free clinic at Bartle Hall. Kansas City C.A.R.E (Communities Are Responding Everyday) "Clinic will offer basic medical care, behavioral health screening and crisis intervention, and health education." Many medical and non-medical volunteers are needed to help screen and treat the thousands of people in need.  You don't have to be a doctor or nurse to volunteer. I signed up to be a receptionist. If you can help out, check out the MO C.A.R.E. website for more details. Or, if you can't make it, consider donating to The National Association of Free Clinics.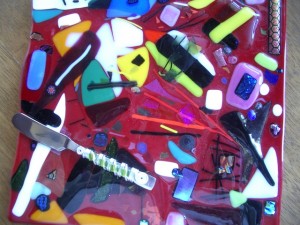 Glass Cheese Plate created by 21 year old Russell Wright and Jenna Lepley, age  19 at VanGo Moble Arts.
One Response to Beth's Everything Blog 12/4/09