ROYALS
Whew! The game Friday night between our Kansas City Royals and the Toronto Blue Jays was a cracker jack. We were at home sweating it out. I get so nervous when the Royals are behind, I have to switch channels. Then, every two seconds, I am back watching the game.
We went to bed when the game was delayed because of rain, but then, eyes wide open, I had to listen to it on the radio. One good thing. It's harder to bite your nails in the dark. By the time it was over, (I guess everyone knows the Royals won) I was so hyped, I could not go to sleep, so got up and worked on novel number three.  Not a bad way to get in some write time.
The World Series begins Tuesday, the Royals against the New York Mets. And for me, the whole exciting, mind-blowing, nerve-wracking process begins all over again.
GO ROYALS!!!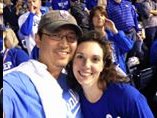 Jami and Brian at the Royals Game