PINKY SAYS: THE GOTHIC ARKANSAS ARCHITECT
What do you know about Arkansas? Well Bill Clinton hails from this state and other than that there is only the old tired joke about Arkansas being the only state in the union that allows first cousins to marry. However there really are other reasons to celebrate this state. It has the second largest bond trading company in the U.S. as well as the headquarters of Walmart and Tyson Chicken. But how about the arts? Have you ever heard of Fay Jones? He was one of the top ten architects recognized by Architecture Magazine in the 20th century. He lived for his entire career in Fayetteville Arkansas and his major works are all in Arkansas. Recently on a trip to visit Crystal Bridges Museum of American Art, we stopped to see his Mildred Cooper Memorial Chapel and we were literally blown away.
Jones has taken the Gothic arch from the cathedrals of the Middle Ages and transformed it into a thoroughly modern chapel. Cathedrals of the 14th century were massive structures which enclosed space and expressed a great age of faith. They considered the beauty of nature a distraction. The style was constructed in a symmetrical manner with repetitive elements. This chapel has been constructed around 15 main arches. Within each of the 15 arches are 3 or 4 Gothic arches, but the individuality of the chapel lies not in its link to the past. There is no heavy dark stone on stone here. Glass and steel are the building blocks which exemplify modern man. Jones has used 31 tons of steel and 4400 square feet of glass. In this way he creates an astounding aura of strength and weightlessness. The surrounding oak and pine forest frames the chapel and provides a natural surrounding that welcomes visitors. Patterns of light and shadow create an ever changing interior throughout the day and the seasons of the year. You feel that you are both inside and outside which creates a weird and beautiful feeling. Jones has produced a building that gives the viewer a sense of wonder and calm that few places can aspire to be.
Jones trained at the University of Arkansas, Rice University , the University of Oklahoma and finally with Frank Lloyd Wright at Taliesin West. Then he became dean of the school of architecture at Fayetteville Arkansas and opened his own architectural firm. He worked quietly in the isolation of the Ozark Mountains. In his chapels he is a master builder, a term that is becoming less applicable to famous architects these days. He used his understanding of Wright and tailored it to his own esthetic. His is a transcendental flair for the sculptural and the simple. Thus he used one rule stipulating that no structural element could be larger than what 2 men could carry through the woods. He often liked to think of himself as a cathedral builder born 500 years too late. He was a humble genius who showed us the potential of an architecture of integrity where he hoped we might, in his words, think our best thoughts.
There is a simple grace to his spaces, intimate yet complex enough to enrich and enchant the viewer. To the ends of the steel he cut a small delicate arc to finish each arch so that it maintains a feeling of simplified medieval decoration. Thus he ties the arches to the past as well as the future. His buildings seem to be well adapted to the landscapes which they inhabit and they provide a sense of security combined with the soaring beauty of the past to create a real sense of well-being and awe. Jones once said of his work , "Just as all writing is not literature, all building is not architecture." The chapel is architecture–great and wonderful architecture.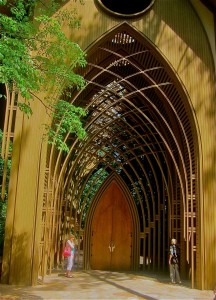 4 Responses to PINKY SAYS: THE GOTHIC ARKANSAS ARCHITECT