CAFO
Have you heard of CAFO? It stands for Confined-Animal-Feeding-Operation.
Some years ago, our farm neighbor gave us a call. His sow had farrowed  and she didn't have enough teats to feed all her brood. Would we like the runt? Our then twelve year old daughter went wild with excitement. Of course she wanted the piglet. So on a moment's notice, we went into the agribusiness even though we knew nothing about raising pigs.
Lynn named the baby Trefa, a take off on the Yiddish word tref which means unclean. At the time we thought it was pretty funny. We kept the pig on the screened-in porch and nursed her from a bottle every four hours. It was during the school year, and no one was home during the day to feed Trefa, so Lynn took her to school and left her in the nurse's office. Each student nurse assistant got to give the piglet a bottle. In the next few weeks everything about her grew very fast. The school principal, who up until then had been very indulgent, call and said Trefa couldn't come to school anymore.
After a few days at home, we totally understood why. Trefa's back porch stank. Everything within twenty yards of her stank. Suddenly, we no longer thought her name was so funny.
In the past few years, worldwide demand for pork has risen almost 50%. Understandably, Kansas with its vast amount of land mass used for agriculture, would like to be part of the solution. The question is: can agribusinesses raise huge numbers of animals in a humane way while protecting the environment and the workers who care for them?
And why has Governor Brownback already opposed an Environmental Protection Agency law that would require Confined-Animal-Feeding-Operations (CAFOs) to report directly to the EPA?
Seaboard Farms, located in Johnson County, Kansas has recently obtained approval to build a Confined-Animal-Feeding-Operation (CAFO) that will house 264,000 hogs in Greeley County, Kansas located just east of Colorado and north of Oklahoma. It will be the second largest such operation in the country.
As to Treifa, we took her back to the country and returned her to our farmer friend. But if one little pig can produce so much odor (and that which causes the odor), imagine what 264,000 Trefa's will do. I'm just saying . . .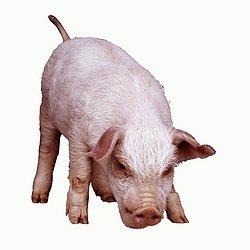 7 Responses to CAFO