Falls Best Kept Secrets***and***ADAMS NEEDLE
The next few weekends promise to be the best for fall adventures. If you're looking to get outdoors and enjoy the changing leaves and crisp weather, here are a few of our country's best kept secrets.
1. Rochester Minnesota: Look for autumn's splendor surrounding streams on either side of town. Salmon and big brown trout are running and can be a fisherman's dream.
2. Arkansas: Fall colors rival anything you've seen in New Hampshire and Vermont. Special treats await in Mountain View where you can hike, bike and shop. My favorite is fishing on Bull Shoals lake where the shoreline is pristine and large and small mouth bass abound. TIP: Hire a guide.
3. Salem, Massachusetts: Winter Island Park, a tiny campground right on the water where boats pass by day and lights twinkle at night. Perfect for home base while visiting. Lovely for strolling and only a short ride to town.
4. Oregon: Drive to the Wallowa Mountains in the eastern part of the state and experience some of the most spectacular hiking in the U.S. Gorgeous views of lakes, peaks and valleys.
Wherever you live, try to get out and enjoy our beautiful country, for the days are all too few before the cold blasts of winter arrive.
Journey to Publishing:  Last week I asked for help deciding what to name novel # 1. Big thanks to all who wrote with suggestions. The consensus: ADAMS NEEDLE.
This week, I need your help picking a picture for the book cover. Adams Needle is another name for yucca and the story takes place around an Ozark bluff called ADAMS NEEDLE because of the many yucca plants growing there.
The questions are, which do you think would make the best book cover and/or which picture, if any, would tempt you in a bookstore or on Amazon.com.
1. mountain, 2. blue sky, 3. plants, 4. none of the above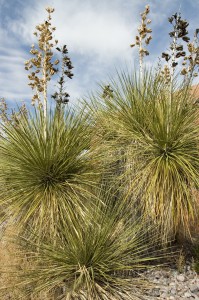 5 Responses to Falls Best Kept Secrets***and***ADAMS NEEDLE