Publishing, Anita Hill, and Domestic Violence
Dear Readers,
In the span of a quarter of a century, I've written three novels.  I love to write and a few years ago I connected with a like-minded group of people.  We have banded together to explore the changing world of publishing. Please join and help us as we explore this cutting edge technology. Tentatively,  The Cross on Adams Needle is the title of my first novel . . .  or maybe it should just be Adams Needle.  What do you think?
Of course I won't discontinue my rants. Right now, it's about the Anita Hill thing.
I am still enraged by the way she was treated.  I believe her and that without question her boss, Clarence Thomas, sexually harassed her and several other young women in his office. None except Professor Hill were ever even called to testify. Thomas became a supreme court judge while Anita Hill, a brilliant, young , attractive black woman was savagely bullied by a group of all male, United States senators lead by Arlen Specter.  If you want to know how badly that's turned out, just remember that Thomas was the deciding vote in the supreme court election of President George W. Bush.
Also, in Topeka Kansas, you may be arrested if you commit domestic violence, but not to worry. You won't be prosecuted. The city of Topeka removed a law saying they would prosecute you and the county DA says there is not enough money in the county coffers for him to do so. Thus, the message is, go ahead and beat up your wife. No one in Shawnee County cares.
Next week, I hope you'll help me pick out a cover for novel number one.
Meanwhile, enjoy the beautiful fall weather.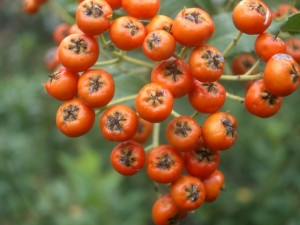 Pyrocantha: fall food for the birds
8 Responses to Publishing, Anita Hill, and Domestic Violence