Pinky says: CRYSTAL BRIDGES American Art in Arkansas
It's coming, It's coming! The new multi-million dollar museum of American art to the hinterlands of Arkansas. It is all signed sealed and delivered by one Alice Walton, daughter of Sam Walton, considered to be the third richest woman in the world today. Alice is not one to demand respect but to withhold it from her and her museum at this time is foolish. Crystal Bridges' endowment is now four times larger than that of the the Whitney Museum. And to top that the Walton Family Foundation has given eight hundred million dollars to the museum to cover operating expenses, further acquisitions and capitol improvements. Right there in Bentonville Arkansas sits the Crystal Museum which Alice has deemed a necessary site of pilgrimage for art enthusiasts. With the buildings designed by Moshe Safdie almost completed and with unknown numbers of great American art works ready to be put on display Alice's Crystal Bridges is ready for a November 2011 opening.
Collecting works of high culture with the proceeds of big business is a familiar progression for titans of industry. Henry Clay Frick, manufacturer and financier, built the Frick that bears his name. The de Young Museum of San Francisco was the gift of John D Rockefeller III with money from the fortune of his grandfather, founder of Standard Oil. With an inherited industrial fortune Isabella Stewart Gardner built a Renaissance palace in the swamps outside Boston. Alice Walton's museum is comparable to these earlier benefactors of art and culture. However Alice has insisted on keeping her name off the museum. She does not even want her portrait to hang there. "I would just as soon not see my wrinkles," she has said. And so curiosity about Alice as well as her museum has come about.
We must look to Sam Walton who originated the wealth that is now pouring into Crystal Bridges. Sam outsourced jobs to labor markets overseas, forced the closure of small stores all over the nation, and changed retailing forever. Despite the many criticisms of the man and his business tactics Alice and the Walton foundation are committed to this cultural enterprise. Alice bought her first piece of art when she was 10; it was a reproduction of Picasso's "Blue Nude". Since there was no museum close to her she was not exposed to high culture, but she painted watercolors and her first collecting was in this medium. Watercolors by Childe Hassam, Sargent and Homer are in her home. She entered the family business after college but after a brief stint she left the business world and pursued raising horses. Sam Walton always spoke of her as being the most like himself–a maverick who was even more volatile than he. From her personal collecting came the desire to found a great American art collection. "Collecting has been such a joy, and such an important part of my life in terms of seeing art and loving it. I was absolutely fascinated by the view of American history that art gave me. It was much more real to me, and much more closely tied to the political and social context of the country, and the changes, when I saw it through the eyes of artists." She has learned the ways of the art world by buying huge numbers of works of art from galleries, museums, and auction houses. She has approached her siblings and the family foundation for additional funds and after a lot of questions and doubts they looked at all the practical considerations. Mercantile minds are always influenced by discounts and sales so that when the state passed a bill exempting a qualified museum from the 6% sales tax the museum concept became a reality. Up to 2008 Crystal Bridges bought 222.3 million of dollars worth of art. This has resulted in a credit of 17 million dollars of taxes to the state of Arkansas and the city of Bentonville. But the exchange would most certainly quadruple the value that the museum will bring to the state.
At this point Alice began to consider a building to house her art. Moshe Safdie has created not one huge building but eight concrete pavillions linked by bridges and walkways which will offer visitors views of the trees and the water. It will be breathing spaces from looking at art. The site is wedged in a tight ravine and hemmed by dense woodland. It is a two hundred thousand square foot cultural palace nestled beneath the tree line. It is aimed to complement its natural setting rather than crown a cultural phenomenon. It is not an urban museum with a traditional neoclassical facade and an ascent up a grand staircase into a temple of culture. It is a museum that will be discovered by its audience who will descend from the wilderness of trees into the museum, and its curators call it a metaphor for the intersection between art and nature. Certainly the site is going to be worth seeing.
But nothing will compare to the art itself. Only sixty-six works have been listed as appearing in the pavilions. Many millions of dollars more have been spent on art that will be on display that has not been announced. Alice, has bought a great many works that are not as yet listed. While the total number of works in the collection is about 600 at present, Alice is buying more art at a feverish pace. We do know that there are works by Gilbert Stuart, Jackson Pollack, Jasper Johns, Asher B. Durand, Charles Wilson Peale, Stuart Davis, George Bellows, Marsden Hartley, John Singleton Copley, Andrew Wyeth, Andy Warhol, Fairfield Porter,Benjamin West, Chuck Close, Thomas Eakins, Roy Lichtenstein that will be on display. The entire staff is in position, Alice Walton and the public are ready for the final dress rehearsal and the opening in November of Crystal Bridges that could quite possibly change the whole field of the art of America. Judgments by art experts have been that Crystal Bridges already must be considered to be in the top half of a dozen American art museums before it actually opens. It is quality, range and depth that already places it among the very best in its field. The mission statement has been formulated, "We invite all to celebrate the American spirit in a setting that unites the power of art and the beauty of landscape." It will be a short hop to see what Alice hath wrought. Want to plan a visit to Crystal Bridges?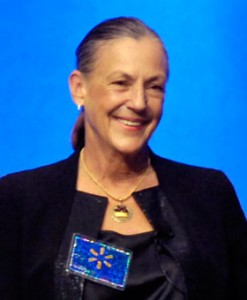 Alice Walton
2 Responses to Pinky says: CRYSTAL BRIDGES American Art in Arkansas