KANSAS CITY YOUTH JAZZ TO PLAY AT KAUFFMAN CENTER
This Sunday, this newest and youngest generation of Kansas City  jazz musicians will be among the first to perform on the stage of The Helzberg Theater at the new Kauffman Center for the Performing Arts.
Ten years ago, founder and musical director Leon Brady and his executive director wife Linda, got together a ragtag bunch of kids and began teaching them to play jazz. Every year, the school grew until now it consists of over one hundred youthful students from all over the greater Kansas City area making up five bands and two combos.
Their appearance and the appearance of many other of Kansas City's youth will fulfill the Kauffman/Helzberg goal of making the magnificent Kauffman Center a dream come true for everyone.
Several weeks ago I visited the Center. It is overwhelmingly big and beautiful. With the help of numerous ushers and assistants, I figured out where each of the elevators went, how and when to use the only escalator, and how to find our seats. There is a lot of walking but as I familiarized myself with the facility, I think I figured it out.
We were a bit late in purchasing our Helzberg Theater seats for the Pop Concerts and were afraid we wouldn't be able to see very well. Actually, the seats, which are on the far left, are fabulous . . . but then . . . so is every seat in the house. Even the top row of the Kauffman Theater is great though I felt like I may have to bring my opera glasses.
I was left to wonder only one thing. Will my husband, who has trouble walking, be able to negotiate the distances from the parking garage or the front entrance to the  theaters? I'm sure we'll find a way.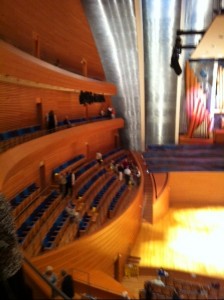 Our seats are right above the stage. WOW!