Beth Ripley Lyon, September 9th. 1900
On September 8th, 1900 the worst Hurricane in the history of the United States, with winds estimated at 145 miles per hour, made landfall in Galveston Texas. The next day, three hundred miles north in Jefferson Texas, Beth Ripley was born amid downpours and slowly decreasing winds.
She joined 76 million other people who lived in the United States at that time.(There are over 312 million now.)
Her mother and father traveled by horse and buggy. Her mother, a school teacher, wore the appropriate fashions of the day, long skirts and high neck, long sleeved blouses. She got her hose, hats, buttons, needles and such at the family dry goods store.
During Beth's first year, Gary Cooper and Clark Gable entered the world. Hirohito, destined to become the Emperor of Japan  who sent planes to attack Pearl Harbor, was also born. Queen Victoria died at the age of eighty one.
Picasso had his first major show in a prestigious Paris gallery. He was 19 years old. Toulouse-Lautre died.
J. Pierpont Morgan bought mines and steel mills in the United States, marking the first billion dollar business deal.
George Eastman made affordable the first portable camera.
San Francisco prohibited burial with its city limits.
Cadillac founded its motor company in Detroit Michigan.
Beth's home probably didn't have electricity but both General Electric and Westinghouse developed the first electric toasters.
Her mother washed their clothes by hand with a washboard and soap. She kept their food cold in the lower space of an icebox and stored ice, probably delivered daily, in the top.
Her parents read to her by candlelight at night and talked on a hand cranked telephone if they had one. They didn't own a radio. They most likely heated their house with a caste iron stove and cooked on a wood burning stove.
Beth's mother wrote this in her cookbook.
Rolled Jelly Cake
1/2 lb sugar, 9 eggs, 10 ounces flour, butter the size of a walnut. Beat the yolks and sugar together. Beat the whites very light – then add flour and when done lay on a wet cloth so as to roll easy.
And her recipe for whooping cough: Less than 1/2 package of horse hound leaves, steep like tea in 1/2 pint of water. Strain through a cloth – 10ȼ rock candy, 10ȼ strained honey, Cup of brandy or whiskey, Boil slowly until it forms a thick syrup.
During Beth's lifetime, electricity became common place. It powered the lights and air conditioning of her homes as well as her refrigerators, freezers, microwaves, stoves, food processors and electric toasters.
She drove her own car and traveled around the world in jet airplanes, trains, and ocean-liners. Telephones, radio and television became ordinary. She bought a computer but never quite got the hang of it.
Beth Ripley Lyon survived cervical cancer, Pagets disease of the breast, and a fractured hip. She died three years short of her hundredth birthday.
It was quite a ride.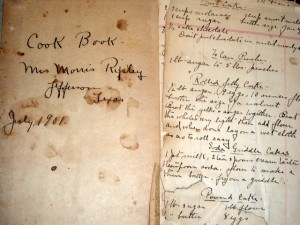 2 Responses to Beth Ripley Lyon, September 9th. 1900