Kansans' Health, Wedding, etc.
Lots of stuff to write about this week but with apologies to those of you not living in Kansas, I can't let past that our governor once again has made a unilateral decision that seriously harms the citizens of Kansas. Governor Sam Brownback summarily rejected a $31.5 million Federal grant meant to implement the new health care law by setting up pioneering state exchange technology which would allow Kansas Residents to compare their health insurance policies with others in order to buy insurance that best fit their needs.
Senate Minority Leader Anthony Hensley, D-Topeka, said Governor Brownback has "tied the state's hands and removed the right of every Kansan to control their own health care fate."
Shame on you, Governor. Cheez: Talk about states' rights gone amuck.
Went to a wedding in Boulder CO last week. The snow peaked mountains turned shimmering and purple in the setting sun as the gorgeous bride and handsome groom exchanged vows surrounded by adoring friends and family who came from as far away as Italy. So many fresh young faces, well traveled, college educated, all embarking on exciting journeys. "O wonder! How many goodly creatures are there here! How beauteous mankind is! O brave new world! That has such people in it!"
It hit 113 degrees in our part of Kansas last week, so hot it hurt to breathe. How do the fully clothed troops carrying ? pounds on their backs survive such heat in Afghanistan?
Finally, Glenn and I celebrated our 30th. wedding anniversary this week.  Memorable indeed made more so by the treasure hunt he prepared for me by sprinkling throughout the house, 30 great, fun, cute and useable items. Everything was in plain sight but I, who notice all manner of flora and fauna, missed things like a new telephone and pad and pencil on the refrigerator door. The excitement continues as I haven't found everything yet.
Thank you dear one, for every memorable second, minute, day, week, month and year.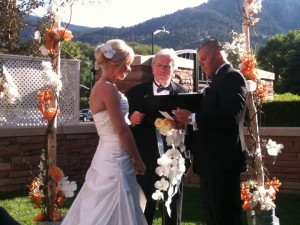 2 Responses to Kansans' Health, Wedding, etc.