STERN
Excerpt from a Novel I'm Working on
The time: Early 1900's: The place: Kansas City Mo. Stern is the main character (POV)
My first memories hark back to the days when I tagged along after John Charles as he went about his chores.  Dusting as he hummed, he paid little attention to me when I crawled up on the purple moiré cushion of the piano stool and touched a key with my finger. I found that by pressing different keys, I could make different sounds, the same sounds that John Charles hummed.  Pretty soon, he looked up and grinned at me.
"That's right good, Mastah Stern," he said bending down to run his cloth over the brass andirons, "but I bet you can't play this one." He began to hum a familiar spiritual I'd heard him sing before.
I was so small, maybe three years old, that I had to kneel on the stool to see the keyboard, but with studied concentration, I used my index finger to tap out the melody I heard in the very key in which John Charles sang.  I remember him standing up with mock surprise and then singing along in his deep resonant voice as I played.  Our music filled the room. After we'd finished, John Charles slapped his knee and laughed out loud.
"We make a good team don't we, Mastah Stern?"
We heard my mother say, "So it would seem," and I looked up to see her standing in the doorway.  "I'm sorry to interrupt but I really must.  Hurry and get the car, John Charles.  I have an appointment downtown.  Susie Mae?" she called.  "Come get Stern."
"Hum a tune, momma," I asked.
She answered as usual. "Don't bother me now, child. Can't you see I'm in a rush?"
But I persisted.  "Pleeze?" I begged.
'For heaven's sake Stern.  I said no."
"Just one?" I whined.
"All right. All right."  Impatiently, she dadi da'ed Old Suzanna.  "How's That?"
I pecked out the song and she nodded .  "That's fine, honey. Hop down and give me a kiss, that's a good boy.  She dabbed at the spot on her pink cheek where my wet kiss had landed. Go with your nanny now."
Susie Mae came to take my hand and lead me away.  Her starchy white dress crackled when she moved and her shiny, black, smiling face beamed above her stiff collar. "I think we'll just go see if we can find a cookie for this boy," she said, eyes twinkling.
"Perhaps you could take him to the garden," my momma said. "He's pale. A little fresh air will do him good."
"Yessum, we'll do jest that."  She bent down and picked me up whispering "cookie first,' in my ear.
Outside on the tire swing that John Charles had hung from the biggest limb of the elm tree, I screamed with delight as she pushed me and twirled me around.  Then she stopped the tire  and put her finger to her lips.  "Listen," she'd say.  "What do you hear?"
"Songs," I giggled.
"Who's doin' the singing?"  she whispered.
"That birdie."  I pointed.
"Who else?"  She lifted me out of the tire and we walked towards the creek.
I told her I heard the bees hovering over flowers and the water trickling over stones, the crickets rubbing their wings together, or so she said, and the wind rustling the leaves of my elm tree, but I didn't tell her, and she didn't know that all those sounds came together as tunes in my head and in time, those tunes would come out through my fingers.  Even I didn't know that I was already composing music.
Of course, no one could know the chaos and tragedy my extraordinary talent would cause.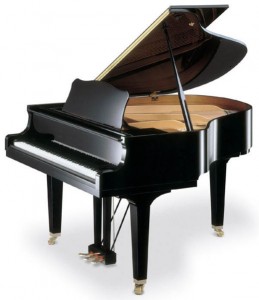 2 Responses to STERN