Hummingbirds
From where we stood, the town lay in a picturesque valley protected by a range of distant snow-capped mountains. Off to the west, a bank of dark clouds rolled our way headed straight for Trinidad. Dudley, my miniature dachshund, and I had gone out for a brief camping trip.  We hurried to the car and followed the markers to the State Park. I pitched our tent near a stand of pine trees. Someone told me that if you hang something red nearby, the hummingbirds will come so I tied a red sock on the antenna of the SUV. It wasn't long before a squadron of tiny, ruby throat hummers showed up. Noisily, they buzzed the bit of red cloth, their tiny, iridescent bodies flashing in the fading light.
Then, like angry giants, black clouds roared out of the mountains. The sky grew ominous. We crawled inside just as the first big drops splattered on the roof. Dudley wasn't afraid of lightning and thunder but the sound of the rain worried him a bit so he nestled next to me, his little chin resting on my knee. He perked up when I broke out a can of spam and shared it with him. (I know . . . spam. . . but it can be surprisingly good at times like these.)
The night turned cold and we crawled into the sleeping bag. Dudley wiggled his way down to the bottom and we fell asleep to the din of a typical summer rain.
Morning came early. Rubbing the sleep from my eyes, I peeked out the flap and gazed with delight at a pristine fairyland. Sky and earth had been scrubbed clean leaving the air crisp and fresh. Translucent droplets of water clung to pine needles like tiny magnifying glasses. As we made our way to the lake, our feet left footprints in the dew. Peering into the still water, we stared at the reflections, our own and those of surrounding mountains. Dudley spotted a tiny water bug skimming across the glassy surface and leaped after it, shattering the mirror and the fragile images of birds flying overhead.
We returned to our tent and shared a breakfast of fruit juice and cereal. Too soon, the sun rose high, signaling time to leave. I removed the sock from my antenna and watched sadly as the little hummers disappeared.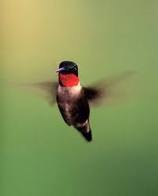 One Response to Hummingbirds