Updates on Coal Plant and Bees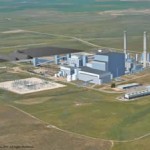 Former Secretary of Kansas Department of Health and Environment Roderick Bremby finally spoke out Thursday, Feb. 10th and cleared up a few things. In 2007, when Kathleen Sebelius was Governor, Secretary Bremby's main concern was that Kansans live in a safe and sustainable environment.  When it came time to sign a permit to build a new coal fired plant near Holcomb Kansas, he refused because he found the amounts of nitrogen oxide and sulfur dioxide emissions too high. Those substances, he believed, would adversely affect the quality of air that Kansans breathe.
Two years later, then Governor Parkinson replaced Secretary Bremby with a man who would sign the coal fired plant permit. Mr. Bremby said he did not resign. He did not step down. He did not quit. He was removed.
Some proponents of the new Holcomb plant said it would be the cleanest in the nation but investigation has proved that wrong.
669 units in the U.S. already emit lower amounts of dangerous emissions than the one prosposed.
320 existing plants release lower rates of mercury
52 plants produce lower sulfur dioxide
18 discharge lower nitrogen oxide
Secretary Bremby remained on the state payroll until the new administration took over because Governor Parkinson placed him on administrative leave. He has had no conversation with Governor Parkinson regarding the matter but he plans to offer testimony in the three cases before the appeals court.
EPA Administrator Karl Brooks has issued a letter to the current Kansas Secretary of KDHE Robert Moser, seeking "dialog" on the permit. The federal government agency charges that the permit is too lax on nitrogen oxide and sulfur dioxide emissions both of which can cause serious, life threatening breathing problems.
Stay tuned.
Bees

Honeybees pollinate our food crops and flowers and provide honey for nutrition, wax for cosmetics and medical foraging for scientists.
Last June I wrote if you are under thirty years of age, chances are your great grandchildren will never see one (a bee). That's because they are vanishing.  2006 marked their unprecedented march toward extinction. No definitive cause has been found. Though the number of bees worldwide has been declining for years, scientists have called the inexplicable die-off, "colony collapse disorder," a term that encompasses pesticides, viruses and poor nutrition.  Some even postulate that radiation levels from mobile phones or power cables are the cause. In other words, no one can explain what's happening to our honeybees.
Military scientists and University of Montana entomologists cooperated to postulate a theory that combined a virus and a fungus as killers of the bees.  However, last year, the University's own bees disappeared.
Beekeepers and scientists the world over are promoting genetic diversity. For now, it's the honeybee's best hope.

3 Responses to Updates on Coal Plant and Bees