Open letter to Kansans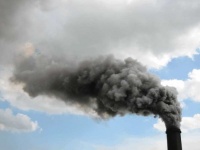 Is this what you want to breathe?
On January 2nd. 2011, new federal coal plant regulations took effect but not in Kansas.
The forward thinking federal regulations meant to protect us from dangerous health issues such as asthma and other respiratory ailments were circumvented by Kansas politicians. They hustled through a permit for a new coal fired plant near Holcomb right before the new regulations would take effect.
We should be incensed and the Sierra Club is. They have filed a court appeal claiming the permit violates the Clean Air Act.
The incidence of asthma has reached epidemic proportions. More than 17 million peoples in the United States suffer from breathing difficulties. Researchers believe that pollution not only triggers the disease, it may cause it. It's not just CO² that's being spewed out of coal plants into the atmosphere but other major health risking pollutants including nitrogen oxides, sulfur dioxide, and mercury.
While the federal Clean Air Task Force has been addressing pollutant issues, officials of Kansas have been busy getting around them.
To refresh your memory, Roderick Bremby, Kansas Secretary of Health and Environment, denied a permit to build the coal fired plant near Holcomb Kansas on the basis of CO2 emissions. Kansas Governor Kathleen Sebelius concurred. Our next Governor, Mark Parkinson, did nothing regarding the coal  plant permit  until December 2010. Then, without explanation, he fired Bremby and appointed someone named John Mitchell as ACTING Sec. of H & E.  Mr. Mitchell  issued a permit in December before the new government  regulations could take effect ( January 2, 2011) and which Governor Parkinson quickly signed.  Now we have a new Governor, Sam Brownback and another ACTING Sec of Kansas H&E., Robert Moser.
Colorado is no longer building coal plants because of pollution concerns, so most of the electricity from this plant would go to Colorado.The pollutants will spread across Kansas farmlands and cities.
Before the Kansas fiasco began, thousands of Kansans wrote comments and attended meetings voicing their concerns. Now is the time to write again. Let's contact our legislators and our new Governor. Get behind the Sierra Club. Send this blog to your Kansas friends and ask their support.
For the health of our children,  this coal plant should not be built.
2 Responses to Open letter to Kansans