Thanksgiving Recipes
You may already have a favorite recipe for baking a turkey but I urge you to give this one a try. It is one of those 'best kept secrets' of the cooking world and I just have to share it with you. I promise you won't be disappointed. It was published in GOURMET Magazine some years ago. Here's part of the article. Judge for yourself.
"We gathered and distilled dozens of approaches into general guideline, then tested each of them on the same brand of supermarket turkeys weighing 14 to 16 pounds. We tried stuffing butter under the skin or leaving it out, basting and not basting, varying the heat versus keeping it steady. We raised the heat, we lowered it. We positioned the bird right side up and upside down. We did everything; and then we pared down to nothing (no butter, no basting, no heat variation). The results astonished us. The turkey no one bet on turned out to be vastly better than the others, winning the beautiful skin and juicy meat contest hands down.
"The Method: The bird was simply seasoned with salt and pepper, then roasted in a 450 degree over – no butter under the skin, no basting, no foil tent, just blasted. "
Skeptical? The people at Gourmet  tried it again and again and it kept working every time. "It cooked in record time, only about 1 ¾ to 2 ½ hours.
So last year I tried it. My turkey weighed 14 pounds. And I followed the directions testing the internal heat with my meat thermometer after 1 3/4 hours.  It said 165 degrees. I was a little nervous about it but I took it out and let it rest for twenty minutes or so and voila! Perfect!
Someone said this works because the higher temperature cooks the deepest parts thoroughly while the breasts have less time to become overcooked.  Makes sense to me.
Tips:
1.       Clean your oven first so that it doesn't smoke. You should probably clean it afterwards too.
2.       The FDA and most authorities say the internal thigh temperature should be 165 degrees.
3.       Let rest for 20 minutes before carving so the juices stay in the turkey and carving is easier.
I'm not crazy about pumpkin pie so for endings, here's my simple apple pie recipe. Mix together six small peeled and cored apples cut in ½" thick wedges. Toss them with ½ cup sugar, 14 cup flour, 1 T vanilla, 2 T fresh lemon juice, 1 t cinnamon, ½ t ground nutmeg, 1 slightly beaten large egg. Pour into a readymade pie crust (that you get from the refrigerated section of your grocery store) and sprinkle with sugar. Bake for 40 to 50 minutes until crust is brown and apples are tender.
Finally, don't forget to buy Amaryllis for Christmas. This is a gorgeous one our friend grew for us just a few weeks ago. He put three big bulbs in a pot. The others are ready to burst into bloom. Can't wait.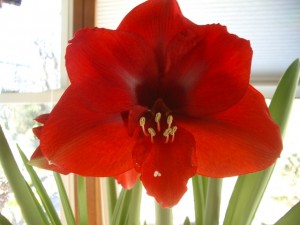 One Response to Thanksgiving Recipes