Organic or Not
I've been having a big argument with myself about whether to buy organic or non-organic foods so I decided to do some investigating. The results surprised me.
Until the 20th century, almost all our food was raised organically. The discovery of pesticides, herbicides and insecticides changed the way food is grown with the result that fruits and vegetables could be mass produced, preserved and shipped all over the world. Thus, we have been treated to a vast array of beautiful fruits, vegetables and meat products year round. Large companies like Archer Daniels Midland (ADM), Monsanto and Cargill have greatly influenced what we buy. They are the world's largest producers of corn, soybeans and wheat. Those vegetables become ingredients in hundreds of grocery store items such as high-fructose corn syrup found in numerous soft drinks and grain fed meat.
As in most subjects, terminology makes a difference. Don't confuse free range or hormone free with organic. (More on meat and egg products next week.) Natural can mean no additions or preservatives have been used, but natural pesticides are permitted and the product may be genetically modified. (Confused yet?)
If the product is listed as !00 % Organic, that means the food has no synthetic ingredients. It is important to look for the Food and Drug Administration's Organic Seal.
The word Organic alone implies that strict limitations on synthetic ingredients apply. These products too are permitted to use the FDA Organic Seal.
Made with Organic means the food must contain at least 70% organic material, but use of the seal is prohibited.
And finally, Organic foods cannot be treated with sewage sludge, bioengineering or ionizing radiation. Hummm. Makes you wonder about all that non-organic food you've bought in the past, doesn't it.
Another organization, the United States Department of Agriculture, doesn't really deal with organic farming per se other than to place restrictions on the amounts of residues or pesticides, hormones and antibiotics that can be used. The USDA does allow all natural pesticides.
The opinions of scientists and nutritionists differ widely concerning the nutritional value of organic foods but if you are to believe The Mayo Clinics, there is no conclusive evidence that it is better than non-organic food. We do know that farming organically benefits the environment by reducing pollution and conserving water and soil, two very good reasons to consider spending more for your food.
We also know that it is a 17 billion dollar industry. The reason it costs more is because it is so labor intensive. Think of being on your hands and knees all summer pulling weeds instead of spraying a little 'Round Up' now and then.
Luckily, I found a web site that tells which fruits and vegetables are safe to buy even if not organically grown. Fruits and vegetables with skins like bananas, tomatoes, corn, avocados, onions, broccoli (but take off the leaves), sweet potatoes and watermelon should be okay because they are low in pesticides. The don't buy list includes apples, pears (which are the second most popular fruit after apples) bell peppers, celery, strawberries, cherries, nectarines, spinach, potatoes, (don't ask) carrots and grapes because all of these carry a high pesticide residue.
For those of you that have little ones, take a look at Fresh Baby, especially the Fresh Ideas.
Finally, a couple of cooking tips. First, it's artichoke season so if you love artichokes like I do, hurry to Whole Foods or your favorite grocery store and pick up a few. Right now, they are HUGE and scrumptious. I don't do anything fancy with them; just boil in water for 45 minutes and eat them hot or cold with melted butter. Yum!
Avocados are plentiful and since my family loves guacamole, I make it often. Here's my simplified version. Slice a 'ripe to the touch' avocado in half, split it, hit the seed with the sharp part of the knife, twist and pop out the seed. Peal but don't mash the avocado. Instead cut it into small chunks and add a couple of tablespoons of your favorite salsa. Wallah. Perfect guacamole.
Next week, I'll investigate organic meat, eggs and dairy. Stay tuned.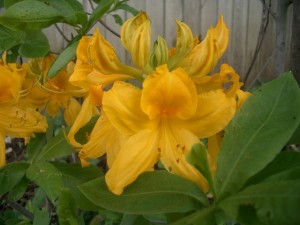 Our beautiful yellow azalea popped into bloom yesterday
2 Responses to Organic or Not