The Screened-in Porch
Our screened-in porch is gone. It's old bones lie crumpled in a red dumpster.
It was one of the reasons we moved to The Old Johnson Place. Our boys, two and three years old, needed room to grow so we bought the house built in 1855. It was way out in the country surrounded by a little land and great, old trees. And it had a charming screened-in porch.
We loved the wooden swing that hung from the ceiling. Many a warm summer afternoon, we'd nestle together, my babies and I, their sweaty, sweet smelling little boy bodies cuddled close to mine. They were city children who knew nothing of snakes or birds or chipmunks so I told them about Higgen Piggen, a bushytailed squirrel who lived in the hollow of a nearby elm tree. He knew all the animals in our backyard world and when they got into trouble, they came to Higgen Piggen for advice. But Higgen Piggen was only a small, young squirrel so he turned to the boys for help. Together, they solved the problems of the skunk that lost its stinker, the robin who's breast turned green and the bunny with a floppy ear. Many other creatures needed assistance as well; caterpillars, crickets, mice and more.
When the boys' baby sister arrived, she joined us on the screened-in porch and became a part of Higgen Piggen's gang.  And sometimes, when the children were playing, I'd write down the stories so that when they got older, they'd remember.
In a kaleidoscope of time, the children grew up and moved on with their lives. Too soon, their father passed away. I took a new job that kept me on the road. Abandoned, the old screened-in porch sank into disuse.
Then one day, I remarried and we decided to stay in The Old Johnson Place. We built a swimming pool in the backyard, which brought new life to the screened-in porch. The children came back to visit and brought their little ones with them. Higgen Piggen came to life again. Stepchildren and relatives visited and birthdays rolled around creating a need for parties. Guests crowded together on the screened-in porch. Safe from mosquitoes and chiggers, my elderly mother loved watching the fun.
Now, at last, the screened-in porch has outlived its usefulness. We only go there when the weather is perfect, maybe four days in the spring and four days in the fall. We've decided it could be put to better use. A new entertainment/office center is taking its place. Each night, we rush out to see what progress has been made.
A new life is coming to our screened-in porch.
The old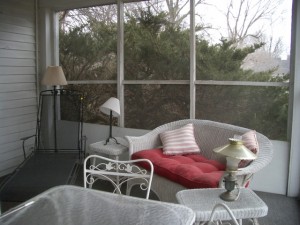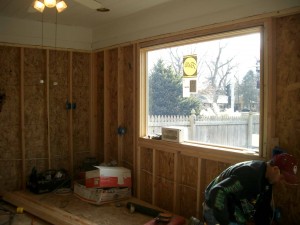 3 Responses to The Screened-in Porch