Christmas Day 2009
When I was young, I never dreamed I'd see the year 2000 but here I am plus almost a decade more. There's nothing glamorous about aging. It's not an art form or politically correct. It's just a fact. Our lives are but a moment in time and the end is a certainty. With luck, we can do it gracefully. If we don't die of something else, our parts will eventually wear out. that's the way it works right now. There seems to be a future in replacing body parts but so far not brains, and without one of those in reasonably good working order, what good is the rest?
My best friend had cancer. (She was my best friend but I wasn't hers. She had lots of best friends,) She lived to be eighty-three. Right before she died, we talked about how lucky she was. She got to see her granddaughters grow up healthy and strong, go to college, and be presented at the debutant ball. That was important to her.  She was a golfer and she puffed up when she talked about her golfing grandson.  She was sharp and articulate and contributed her time and money to good causes.  She definitely didn't want to die and she fought a valiant fight. In the end, the disease won.
I envy people who can kneel down on one knee (or both) and then jump back up? I can't do that any more. Damn! I take Pilates twice a week and walk my dog a mile each day, but I still can't do that. I can't eat the things I want to and I'm shrinking. Today I had to ask a total stranger to reach something for me at the grocery store. And where did my hair go? To my chin?
The strangest is how I feel inside and what others see outside. I don't feel any different, smarter maybe, but unchanged except for the exceptions noted above (and maybe a few more). But behold: the mirror. Who is that? It is so weird for me to feel like me and look like that.
True terror is to wake up one morning and discover that your high school class is running the country.
– – – – Kurt Vonnegut
A Christmas Story, The Musical
With high hopes, we went to see A Christmas Story, The Musical at the Kansas City Repertory Theatre.  John Bolton, who played the father, was fabulous. The musicians also performed as expected.  Anne Nathan as Ralphie's mother did a credible job. Zachary Carter Sayle played Ralphie and though his acting was a bit weak, he sang well.
The first act is slow to get off the ground. It didn't pick up until more than half way through. If I hadn't known the story, I would have been lost. The second act however, brought the show to life.
I'm not a fan of the 'no music' music phase of today's theater.  I like to go home humming something. Maybe it's a generational thing. It certainly must have been challenging for the performers and it didn't set off alarms to my perfect pitch.
I didn't get the set design. All those billowing clouds added little except to cover up the periphery. The side sets were not lit well enough for me to see anything but a jumble. (I was sitting in the 7th row center)  I liked the sidebar barking and singing. Some of my friends thought it just plain silly. The scene changes went smoothly and all the actors helped keep things moving.
As for making it to Broadway, who knows?
Maybe.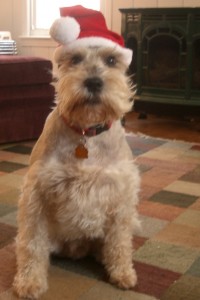 Louie says Merry Christmas to all
2 Responses to Christmas Day 2009