A CASA Christmas
The telephone jangled, waking me out of a sound sleep. Who can be calling at two o'clock in the morning? My mind shot to parents. My heart pounded. An accident? One of them sick? Oh no! They'd been here just hours before, helping to trim the tree. After we'd hustled the children off to bed, Mom and Pop went home and my husband and I hurriedly assembled and wrapped presents. Aching with fatigue, we smiled and crawled into bed.
Now, filled with foreboding, I reached for the phone.
"Betty? Can you come get me?"
"Oh God. It's my CASA kid," I whispered to my husband. "Where are you?" I asked her."
"At the bus station."
Just fifteen, she and her baby boy had been missing for six weeks. I was her volunteer Court Appointed Special Advocate and I'd been warned not to give her my home phone number, but I was the only constant in her life. Her mother was dead, her father absent, her sisters and brothers to young or poor or drug addicted to help, and her grandmother too old and sick to put up with her shenanigans.
The girl and the baby had suffered through three different social workers and been placed in six different foster homes. None worked out. My job as her CASA was to help the judge decide what was in her best interest. To do that, I had to get very involved in her life. Social Services recommended she be separated from her baby but she absolutely refused to give him up. That's why she ran away. Now the Aunt she'd run to in Oklahoma had thrown her out.
Groggy with lack of sleep, I dressed and drove to the bus station. There she sat, baby in arms, a tired, lonely little figure in the empty waiting room. A grin flashed across her face when she saw me. She flew into my arms.
We sat in the car, heater whirring, trying to figure out what to do. CASA's have rules. No taking the kids into your home.
"I can go back to grandma's," she said. "I called her and she said it was okay." The baby wriggled around, opened his eyes and began to whine. She reached for the nookie tied around his neck and stuck it in his mouth. Sucking softly he fell back to sleep.
I knew my CASA kid well; charming, headstrong, moody, sullen, stubborn, giggly, loving, sweet.
"You know I'll have to contact Division of Family Services and we'll have to go back court."
"Yes, but I promise I'll make it this time," she said. "I won't get in trouble. I'll help with the cooking and cleaning and do what she tells me. Really! Can't I go there? Please. Please. Please."
I dropped her off at her grandmother's, a tiny, rundown, midtown bungalow with a bare light bulb burning on the front porch. I watched her open the door and go inside.
Maybe this time it would work.
Probably not.
CASA is a national program that works in behalf of abused and neglected children by thoroughly investigating each case and then making recommendations to the court as to what is in the best interest of the child. Locally,  Johnson  and Wyandotte Counties in Kansas and Jackson County Missouri are in need of volunteers. New training classes will begin after the first of the year.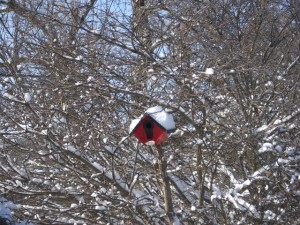 Bless our homes, every single one
3 Responses to A CASA Christmas