Free Clinic and Alzheimer's
Kansas City's Free Clinic
Kansas City temperatures hovered in the teens as I headed to cavernous Bartle Hall to volunteer at the Free Clinic. Hundreds of doctors, nurses and other medical personnel joined me. Meanwhile, thousands of men, women and children also braved the cold in search of free health care.
Twenty four of us acted as intake receptionists. Patients were given a number and asked questions regarding insurance (none had any), employment (I heard mostly none or part time), where they lived (one had an address just down the street from me and some didn't have any at all), and the last time they'd been seen by a doctor (in a lot of cases, years.)
We tried hard to make it a pleasant experience for every patient, many of whom were treated on the spot. Others received free appointments and referrals for further treatment, and unfortunately, a few were sick enough to warrant a free ride to the hospital. Kansas City had dentists and ancillary personnel available. One patient told me he'd had a toothache for more than a year. "What do you do?" I asked. "Tough it out," he replied.
I went home at four o'clock in the afternoon, but many volunteers stayed and a new shift arrived. The clinic closed at eight and opened again Thursday from ten to six. Before closing, a total of twenty three hundred patients had been seen. Not bad for two days work.
Alzheimers
As I chatted about jazz with a fellow volunteer on Wednesday, I found I couldn't remember the name of a vocalist I knew well.  I laughed and said, "I hope I'm not getting Alzheimers."
"I do crossword puzzles," she answered, dead serious.
Alzheimer's is a scary disease that affects the memory of 5.2 million Americans. It is not simply forgetting someone's name or losing your car keys. It is a serious illness that eventually affects a person's ability to learn and carry out daily activities. Though there are lots of myths floating around, here is no known cure.
It appears likely that beta amyloid protein is in everyone's brain. Some of our brains however, have the ability to get rid the plaques that form, while others are unable to control a buildup of the protein plaques.
Researchers and especially drug companies are working to discover a cure for Alzheimer's by developing something that will clear away the plaques of beta amyloid protein. Thus far, the best approach seems to be delaying the aging process. The Salk Molecular and Cell Biology Laboratory is working hard on that theory.
Meanwhile, eat right, walk a mile a day and keep on doing your crosswords.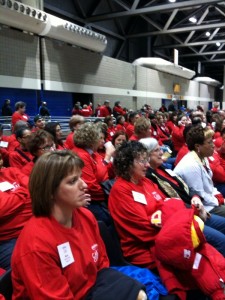 Volunteers at Bartle Hall Free Clinic
2 Responses to Free Clinic and Alzheimer's