It's tornado season again, a scary time of year.
Once a long time ago, we heard the sirens go off.  I rushed the children to the basement while their foolhardy father stood outside watching a swirling cloud that sounded like a freight train as it pass overhead.
I was 'on call' that day. It wasn't long before the phone rang asking me to come to the hospital immediately. That swirling cloud had come down on Ruskin Heights. A suburb of Kansas City, it had been devastated. Houses blew off there concrete slabs, trees were uprooted, and telephone poles disintegrated.
Racing down 63rd street and then north on Troost, I wheeled into Menorah Hospital's parking garage along with numerous doctors, nurses and other hospital personnel.
The emergency room was a grisly and frantic scene. While competent hands attended the badly injured, I rushed to take x-rays and helped pull splinters out people's arms and legs.
A few lost their lives that day in Ruskin Heights, and a total of fifty-nine Missourians died due to other, numerous weekend tornadoes.
Since then, there have been many tornadoes sightings and countless warnings in our area, but Ruskin Heights is the one I can't forget.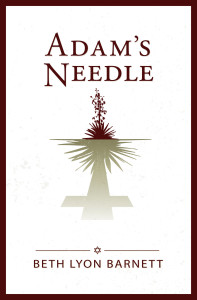 Anti-Semitism is not new. When we lived on our farm in the Ozarks, we sometimes got that niggling feeling in the pit of our stomachs, for we could see ADAM'S NEEDLE from our front door. It was a cliff upon which stood a large white cross.
ADAM'S NEEDLE tells the story of deceit and fear, love and hate, cowardice and courage through the eyes of an extraordinary boy.
It is 1980. Drought blankets the Midwest. Cornfields wither and die, but Jewish researchers George Klein and his young wife, Sarah, believe they have engineered new seeds that will flourish. To prove their theory, they buy the perfect farm near the quiet, little town of Pecan Grove in the heart of the Missouri Ozarks. Little do they know that an unscrupulous preacher has arrived at the Truth in Christ church.
Powerful and page-turning, you won't want to miss ADAM'S NEEDLE , available on Amazon.com and the Kindle.
DECORATION DAY
When I was a little girl, everyone took off work on my birthday–May 30th–even if it fell on a weekday. I thought I was very special. Even my father stayed home to play with me. My mom cut bunches of pinky and white peonies to take to relatives (in a cemetery, which I thought was rather nice of her,) and we always had a party, sometimes with a cute goat cart and always with ice cream and cake.
It wasn't until a got to school that I received the cruel awakening. I learned people weren't celebrating my birthday but were actually mourning the dead. It was not a happy celebration, but a memorial. The townspeople called it Decoration Day.
"The 30th of May, 1868, is  designated for the purpose of strewing with flowers, or otherwise decorating the graves of comrades who died in defense of their country. "
And then, to make matters worse, in 1971 President Nixon declared my birthday a federal holiday. He called it Memorial Day and ordered that it be celebrated on the last Monday in May. I wasn't so special anymore.
Although—when you think about it—it's still extraordinary. My birthday became a three-day holiday for everyone.
Not long ago I went to a meeting of fellow writers and heard about the Author's Blog Chain. Theresa Hupp tagged me giving me an opportunity to tell you a bit about myself.  Theresa is in the midst of editing two exciting and fact packed novels about the Oregon Trail. She has written and published a contemporary mystery,  as well as Family Recipe, an anthology of stories, essays, and poems well worth the read, and available on Amazon.com. Theresa also writes a great blog , Story and History. You can follow her on Facebook  and twitter to learn more about her work.
Here are the four questions I've been asked to answer.
What are you currently working on?
My first real attempt into the world of fiction writing was a novel, JAZZ TOWN, the story of the struggles of jazz musicians and Kansas Citians during the 1920's and '30's. Filled with actual events , JAZZ TOWN is a thriller, a love story, and an action-packed novel all rolled into one.
After it's publication, I turned to a new passion, ADAM'S NEEDLE. It is about a young, Ozark farm boy who fights injustice and discrimination in an attempt to save the lives of his new neighbors. Folklore  has it that Adam used the spiky leaves of the yucca plant to sew clothes to cover Eve's nakedness. In my novel, ADAM'S NEEDLE is a rocky cliff where yucca plants grow and where long ago, the Ku Klux Klan place a large, white cross.
Ever since my miraculous recovery from back surgery, I've been obsessed with the metaphysical. I've just begun a third novel—this one about a young girl who, with her dog, embarks on a quest for life but stumbles into a world that encompasses mind, body, and spirit.
Buried under all the fiction is a cookbook lurking. Mine would contain instructions brought by a German grandmother on the Barnett side of my family. In my early married life, I had so much fun watching Grossmutter's techniques and learning her secrets. I hope to be able to document those experiences while retaining the unusual and delicious recipes.
My  daughter, Lynn B. Barnett, is a social worker and president of Mid America Family Treatment Center. She has written many amazing, informative articles. They contain numerous tips on how to parent children with emotional problems such as attachment disorder and fetal alcohol syndrome. I am pleased that she has asked me to help her get them ready for publication.
How does your work differ from others in the same genre?
There is much truth in all of my fiction. I love researching, and I often spend hours doing it, but most of my novels are based on real-life experience. The other day, I read about a woman who was a ballerina and an actress before becoming a literary agent. I totally understand following your heart when it comes to making career choices. Wife and mother came first for me. Then farming in the Ozarks, followed by medicine and sales which took me to faraway lands. All have a great impact on my writing.
Why do you write what you write?
Much of what I write has to do with nature and the human experience. I care about injustices and find myself fictionalizing real-life events. My joy at waking up every morning is only surpassed by my need to know what each new day will bring. For me, life is a jigsaw puzzle. Sometimes fitting the pieces together is hard, but the quest catapults me from one learning experience to the next.
How does your writing process work?
My handwriting is so bad, even I can't read it. The computer has changed all that. Because of this incredible piece of equipment, I can do what I love. I write in Microsoft Word which keeps me glued to my computer either creating or trying to figure out the complexities of the program. Cut and paste has added a new dimension to my life. I used to have trouble crossing out even one of my precious word-babies. Not anymore. I can casually cut portions big and small, because I can save or delete them anytime I want. I wish I could work from an outline. I always know the basic plot. I usually know how it will begin. Like many of my peers, my characters often have minds of their own and take me down unintended paths. I love happy endings.
I am tagging another author to continue this author blog chair, Pamela Boles Eglinski. To date, she has written two spy thrillers, Return of the French Blue  and She Rides with Genghis Khan,  exciting mysteries  full of  romance and history. Pam has also published two anthologies,  Mother's Red Fingernail Polish and Father's Fried Egg Sandwiches. fun filled books of short stories. Pam is hard at work on a novella. Be sure to visit her blog to read more about what she is doing.
Writing a synopsis is much harder than I thought.
I must distill 85,000 words  into a pithy, succinct, exciting, unputdownable description of ADAM'S NEEDLE  in five hundred words or less.
That includes one sentence that tells the whole story in a nutshell . . . .
and a captivating, mesmerizing, enchanting, short paragraph about myself.
I'm working on it.